Are you ready to ride? The 2022 PMC Winter Cycle will return to Fenway Park on Saturday, April 9, 2022!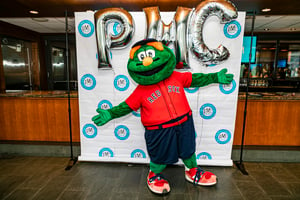 Read on to learn about what we're planning for 2022 and what you need to know before you register!
When is the 2022 PMC Winter Cycle?
The 2022 PMC Winter Cycle is Saturday, April 9, 2022, with the first session starting at 8 AM. While winter is technically over in April, we all know April in Boston can still feel like winter.
Where is the 2022 PMC Winter Cycle?
The PMC Winter Cycle is once again outside at Fenway Park! Bikes will be outside on the fifth floor concourses, between third and first base, overlooking the field.
Is there a vaccination requirement for the 2022 event?
All 2022 PMC Winter Cycle participants (riders, volunteers, staff, and instructors) are required to be fully vaccinated and must confirm during registration that they are or will be fully vaccinated by the event (April 9, 2022).
If you will not be vaccinated by April, you may register as a virtual rider.
When can I register for the 2022 PMC Winter Cycle?
Registration opens at 9 AM on December 1 to 2021 Pacesetters (those who raised $2,000 or more) and to alumni and the general public at 9 AM on December 2.
Once registration is open, you can register at secure.wintercycle.org/register.
What is the schedule for the event? Which studios and instructors are participating?
There will be six 45-minute sessions in the 2022 PMC Winter Cycle – one additional session than in 2021! There will be 30 minutes between sessions to allow time for bikes to be cleaned and for riders to enter and exit Fenway Park while remaining socially distant.
8 - 8:45 AM Session: Leah Geragosian • Catyn Piver (CycleBar Assembly Row)
9:15 - 10 AM Session: Alyssa Pannozzi • Clyde Simms (Rev'd)
10:30 - 11:15 AM Session: Dave Bergeron (EverybodyFights) • Laura Mucci (Backyahd Boston)
11:45 AM - 12:30 PM Session: Ashley Basiri • Alicia Romano (B/SPOKE)
1 - 1:45 PM Session: Alex Gaspard • Kate Stover (Turnstyle Cycle)
2:15 - 3 PM Session: Jill Kaufman • Meredith Martin (The Handle Bar)
Learn more about all of the 2022 PMC Winter Cycle instructors here.
What is the fundraising commitment for 2022?
The fundraising commitment is $600 per session and the registration fee is $50. Riders can choose to ride in just one 45-minute session or up to all six! A $600 commitment will be added for each session you register for.
Where do the funds raised by the PMC Winter Cycle go?
100 percent of all rider-raised dollars go to cancer research and treatment at Dana-Farber Cancer Institute. The 2022 PMC Winter Cycle fundraising goal is $500,000.
Can I register as a virtual rider?
Yes! Virtual riders have no fundraising minimum or registration fee. Please note that 2022 PMC Winter Cycle sessions will not be streamed from Fenway Park. A virtual rider is an individual who does not ride, but supports the PMC Winter Cycle's fundraising mission.
Can I ride with a team?
Yes, anyone can form a team! Riders can create or join a team during the registration process; teams may include Fenway Park and virtual riders. Each team member is responsible for reaching their fundraising minimum.
Can I register to volunteer?
Yes! Volunteers are needed for event set-up the day before the event and for general support the day of the PMC Winter Cycle. Learn more about volunteering here.
Are guests allowed at the 2022 event?
No, only riders and volunteers will be allowed into Fenway Park for the 2022 PMC Winter Cycle.
Additional questions?
Email wintercycle@pmc.org.