This is the first session of the day and runs from 8 to 8:45 AM. Bikes will be located on the fifth floor concourses between first and third base, overlooking the field.

There will be 30 minutes between sessions to allow time for bikes to be cleaned and for riders to enter and exit Fenway Park while remaining socially distant. Riders should be at their bikes 15 minutes before their session starts.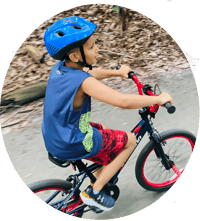 PMC PEDAL PARTNER: MASON
Each session is assigned a PMC Pedal Partner for riders to ride in support of. PMC Pedal Partners are pediatric patients at the Jimmy Fund Clinic at Dana-Farber Cancer Institute.
Mason, 10, is from Trumbull, CT. He is a 5th grade student who loves golf, karate, and skiing.
SPEAKER(S):
Speakers kick off each session 10 minutes before the scheduled start time. PMC Winter Cycle speakers are often riders, volunteers, Living Proof riders and/or volunteers, and sponsors.