The Pan-Mass Challenge (PMC) is pleased to announce Jelenew as the official women's apparel partner of the 2023 PMC Winter Cycle. The PMC is the nation's single most successful athletic fundraiser, having raised $900 million since 1980 in support of Dana-Farber Cancer Institute (Dana-Farber) and its world-renowned cancer research, treatment and patient care. PMC Winter Cycle is a charitable spin event that kicks off the organization's fundraising efforts each year.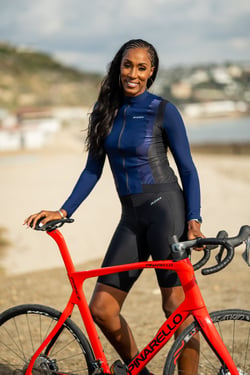 Based in the U.S. and designed in France, Jelenew is the world's first couture cycling and spinning apparel brand made only for women. Jelenew offers products with professional athletic functionality, mixed with cutting-edge French haute couture artistry and technology. Driven by the mission to promote and develop global women's cycling, Jelenew stands for inclusion, empowerment, and the upliftment of women everywhere. As a key partner of the PMC, in addition to becoming a corporate sponsor, Jelenew will outfit all female PMC Winter Cycle instructors in its newly released indoor cycling/spinning line.
Lisa Leslie, 2X WNBA Champion, 8X WNBA All Star, 4X Olympic gold medalist and Hall of Famer, has recently joined Jelenew as an equity partner and the executive brand strategy officer.
"As a professional athlete for over 12 years, I truly understand the power and inspiration sports can bring to women. Cycling is a great sport that is so fun, yet under-represented by women, and we want to change that," she said. "Jelenew really challenges the status quo by creating a vision from a woman's perspective. We want to applaud the PMC for its relentless fight against cancer. I believe women are born fighters and warriors, and at Jelenew, we are all about empowering women and promoting a healthy lifestyle through the great sport of cycling, so it is only natural for us to partner with the PMC."
Riders will have the chance to ride alongside the legend herself as she will be participating in the 8 AM session of the PMC Winter Cycle this year, as well as attending the event's after party for a meet and greet session with participating riders.
The PMC Winter Cycle will be held on Saturday, February 4, 2023 at The 521 Overlook, located in center field of Fenway Park in Boston, offering participants an iconic view as they ride. The event is comprised of five 45-minute rides led by popular local spin instructors. As a spoke in the wheel of the PMC's yearly fundraising campaign, PMC Winter Cycle brings together hundreds of people of varying athletic abilities and spin experience, who channel physical, mental and emotional energy to fight cancer by raising money for Dana-Farber. In 2022, the PMC Winter Cycle contributed to the organization's record-breaking $69 million gift to Dana-Farber, 100 percent of which supported cancer research and treatment at the Institute.
"Noticing the male centric design and aesthetic in the current athletic apparel industry, Jelenew wants to break the mold," said Liu Di, seasoned cycling enthusiast and creative director of Jelenew, who used to design for the world renowned fashion house Chanel. "Haute Couture is the creation of exclusive custom-fitted high-end fashion design that is constructed by hand from start to finish, is it truly considered as the pinnacle of fashion designing. And we really wanted to apply that high fashion aesthetic, tailoring, quality, innovation, technology, and the extreme attention to details to our product at Jelenew. All of our materials and fabrics are imported from Italy and designed in our studio in France to ensure premium quality," said Di describing the design philosophy. "In today's athletic and performance apparel space, brands seem always to start developing new products based on men's needs first, and women's lines are often treated as an afterthought by sometimes simply changing and tweaking the sizes from men's products. The truth is men's and women's bodies are made differently and when it comes to product development, women deserve the same attention and resources," says Di, discussing the pain points in today's women performance wear. Led by over 85% of female designers and seamstresses on the design team, Jelenew is truly a brand that offers products developed and designed by women for women. "By putting women's unique physiological structure as the core guideline for product development, we are aiming to develop both the most professional and flattering cycling apparel. Making women everywhere feel comfortable and confident when they ride and to encourage women all over the world to be their most authentic and adventurous selves through cycling."
"We are happy to have Jelenew as our official women's apparel partner of PMC Winter Cycle this year," said Justine Darmanian, director of volunteer operations & Kids Rides at the PMC. "Jelenew took the time to study the needs from our instructors and riders by hosting and conducting focus groups and product surveys—their support will keep our female instructors stylish, protected and comfortable as we kick off our 2023 fundraising campaign for Dana-Farber."
To learn more about PMC Winter Cycle or to support a rider with a financial contribution, visit wintercycle.pmc.org or call (800) WE-CYCLE. Connect with #PMCWinterCycle on Facebook, Twitter, Instagram and LinkedIn.
---
Exclusive for the PMC Community: Shop Jelenew at 20% Off
Use code JelenewWinterCycle for 20 percent off at jelenew.com now through February 28, 2023! This discount is exclusive for the PMC community.
---
About Jelenew
Jelenew is the world's first haute couture professional cycling brand created just for women. Based in the US, and designed in France, Jelenew incorporates professional sports functionality and cutting-edge haute couture aesthetics into cycling apparel and more. Standing for women empowerment and driven by the mission to help develop global women's cycling, Jelenew aims to encourage women from all over the world to be their most authentic and adventurous selves.
To learn more, please visit www.jelenew.com or follow us on Instagram, Facebook and Strava.
About the Pan-Mass Challenge
The Pan-Mass Challenge (PMC) is a bike-a-thon that today raises more money for charity than any other single athletic fundraising event in the world. The PMC was founded in 1980 by Billy Starr, who remains the event's executive director, an annual cyclist and a fundraiser. The PMC has since raised $900 million for adult and pediatric patient care and cancer research at Dana-Farber Cancer Institute through the Jimmy Fund. The event donates 100 percent of every rider-raised dollar directly to the cause, generating 60 percent of the Jimmy Fund's annual revenue as Dana-Farber's single largest contributor. The PMC has successfully melded support from committed cyclists, volunteers, corporate sponsors and individual contributors, all of which are essential to the PMC's goal and model: to attain maximum fundraising efficiency while increasing its annual gift. The PMC's hope and aspiration is to provide Dana-Farber's doctors and researchers with the necessary resources to discover cures for all cancers. The PMC is presented by the Red Sox Foundation® and M&T Bank. For more information on the Pan-Mass Challenge, visit www.pmc.org.