We're excited to announce a first for the PMC Winter Cycle: This spring, a very generous anonymous donor will double the impact of the total PMC Winter Cycle fundraising with a 1:1 matching grant, up to $2 million.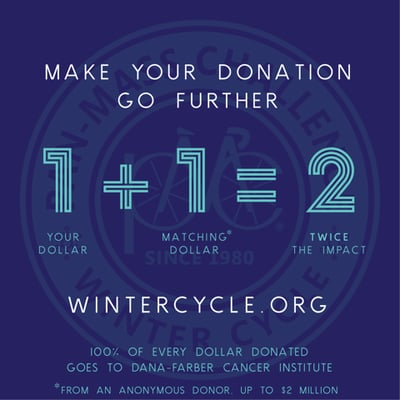 The more that you raise now, the more the PMC Winter Cycle will be able to give to Dana-Farber Cancer Institute this year! Ask your donors to support your ride, inform them of the PMC Winter Cycle's 100 percent passthrough, and share this 1:1 matching grant news. We want to maximize the 2021 gift to Dana-Farber so make sure to also encourage your friends to sign up and ride with you – whether it is in-person at Fenway Park or virtually at home.
"We are grateful for this generous donor recognizing the importance of PMC Winter Cycle participants' fundraising efforts and our commitment to Dana-Farber Cancer Institute," said PMC Founder and Executive Director Billy Starr.
This unrestricted matching gift will be recorded as a general donation and will not be credited to individual riders' fundraising. It will be applied on March 1 (the fundraising minimum deadline).
In 2020, the PMC Winter Cycle raised more than $825,000. With the support of Fenway Park and virtual riders this year, we know your 2021 fundraising efforts will have even more of an impact at Dana-Farber Cancer Institute.