Laurie H. Glimcher, M.D., President and CEO Dana-Farber Cancer Institute, sent a thank you letter to the PMC Winter CYcle Office that we want to share with all of you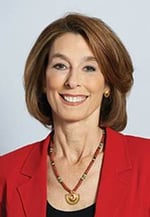 I would like to congratulate you on another successful PMC Winter Cycle. What a great way to ride into the 40th anniversary year of the Pan-Mass Challenge and build on the momentum from its $56 million record-breaking milestone last year.
We are so fortunate to have you and the whole PMC community on our team. Thanks to your enduring and passionate partnership, Institute investigators are transforming the way we understand, detect, prevent and treat cancer. The PMC's longtime support consistently empowers our clinicians and staff as they provide innovative treatment strategies and help alleviate the burdens of cancer for patients and their families at the Institute and beyond.
It is a remarkable privilege, indeed, to benefit from the PMC's unwavering commitment to our mission. Everyone at Dana-Farber joins me in offering our sincere gratitude.
Warmly,

Laurie H. Glimcher, MD