While you're at home practicing social distancing, you may be looking for ways to stay active while gyms and studios are closed. Luckily, PMC Winter Cycle instructors have online options for you! Check out the list below to find ways to mix up your at-home fitness routine.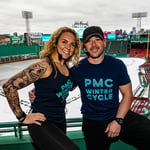 9 AM SESSION – Laura Mucci & David Bergeron
Follow
David
and
Laura
on Instagram to find workouts hosted on social media or
ebf.live
! Laura has been teaching yoga and a
BAGS | beats inspired class.
10 AM SESSION – Jess Fracalossi & Raisa Hoffman
Check out Jess or Raisa on Instagram for inspiration and live-stream MOVE classes on Instagram starting March 23 at 8 AM, 12 PM and 5:30 PM. No weights required, but a single dumbbell or kettlebell is encouraged for a harder workout.

11 AM SESSION – Maggi

Moorhead

& Jenn Ogonosky
Instructors are posting some of their favorite playlists online. If you have your own bike at home, some of their playlists will have instructions so you can pretend you are in Jenn or Maggi's classes!
Check out live morning bootcamps on Instagram, too.

12 PM SESSION – Catyn Piver & Nancy Ruggeri
Follow your 12 PM instructors Nancy and Catyn as they share workouts and inspiration!
1 PM SESSION – Lindsay Bucci & Christina Muccio
Follow Lindsay and Christina and check out the studio's live class schedule and previously posted workouts.
2 PM SESSION – Lauren Lenkaitis Raffoni & Sam Rinaldi
Life Time is not currently offering live classes, but support our 2 PM instructors Lauren and Sam by giving them a follow!





If you take any of these studios' or instructors' classes, be sure to tag them and @panmass / #PMCWinterCycle in your social media posts! Find the PMC Winter Cycle on Facebook, Instagram and Twitter.