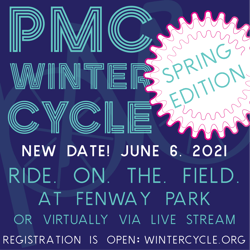 Breaking news! We are thrilled to announce the new date for the 2021 PMC Winter Cycle: June 6, 2021!
We are thankful for your patience as we coordinated with Fenway Park to reschedule our event in support of Dana-Farber Cancer Institute.
While the timing of the event means that this is a unique "spring edition" of the PMC Winter Cycle, we can't wait to ride with you, whether you'll be on a bike at Fenway or at home.
Session times for riders at Fenway Park will carry over to this new date. We'll share more info about event logistics in the coming weeks, so make sure to check your email.
Your commitment to the PMC Winter Cycle and our mission is truly impressive and appreciated. Our community has raised more than $900,000 to date – and that's before the 1:1 matching grant or getting on a bike!
PMC Winter Cycle: Spring Edition FAQs
When is the PMC Winter Cycle?
The 2021 PMC Winter Cycle is rescheduled for June 6, 2021. You can view the schedule of the day here.
Is the PMC Winter Cycle still at Fenway Park?
Yes! Fenway Park is still the home for the PMC Winter Cycle.
For the first time, the PMC Winter Cycle will be happening during the Boston Red Sox season! While the Sox are on the road, we'll be riding on the field at Fenway Park.
When is the fundraising minimum deadline?
The deadline to reach your minimum fundraising commitment is now July 1, 2021. The minimum for Fenway Park riders is $1,000 and the minimum for virtual riders is $100.
Are there still spots available for more riders in the PMC Winter Cycle?
Yes, limited spots remain for riders at Fenway Park. If you have friends, family members or colleagues who want to join you, please encourage them to register soon!
There are unlimited spots for virtual riders to participate from home.
All riders – Fenway Park and virtual – who are registered by May 17 will receive their kit ahead of the event.
Questions?
Contact us at wintercycle@pmc.org.